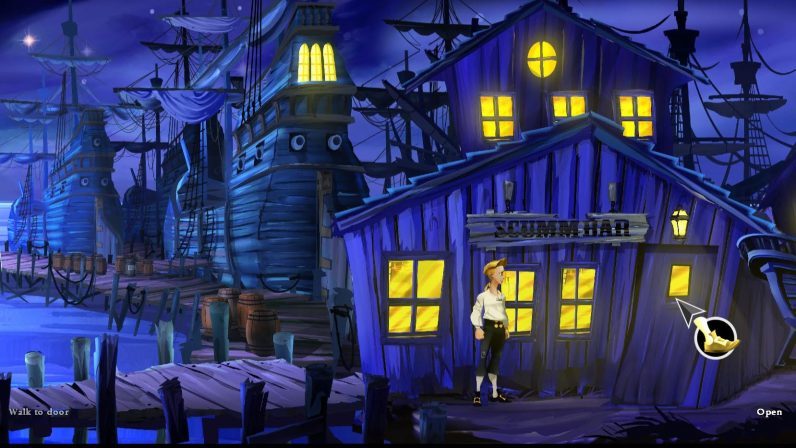 The Monkey Island is probably one of the most important landmarks in gaming history. For the millions who played it, it not only confirmed that games could become an artform, but also that they could be deeply, outrageously funny.
Over the course of five games, the Monkey Island series tells the tale of the endearingly hapless Guybrush Threepwood, and his quest to become the most feared pirate in the Caribbean.
It was just really bloody silly. The dialog was filled with cheeky 'ooo er' double-entendres, and the main combat mechanism was "insult sword fighting," which is exactly what it sounds like.
Monkey Island was just one of many iconic adventure games that came out of LucasArts. Its stablemates include the beloved Sam and Max series, Grim Fandango, and Maniac Mansion: Day of the Tentacle.
When Disney acquired LucasArts parent LucasFilm in 2012, it signified the end of an era. Disney's never really been that interested in games, and in 2016 the company announced that it would cease in-house production entirely, and transition to an IP licensing model, leaving the future of the Monkey Island series in doubt.
In 2016, Monkey Island co-founder Ron Gilbert asked Disney on Twitter for the chance to buy the Monkey Island and "Mansion Mansion [sic]" IPs, adding he'll "pay real actual money for them."
Dear @Disney, now that you're not making games, please sell me my Monkey Island and Mansion Mansion IP. I'll pay real actual money for them.

— Ron Gilbert (@grumpygamer) 23 Μαΐου 2016
So far, Disney has remained tight-lipped, but fans have launched a petition begging the company to agree to Gilbert's request.
Although the petition is over a year old, it's picked up momentum in recent months, and in total has attracted over 12,000 signatures in total. This puts it within a hair's width of its 15,000 signature goal.
The petition also caught the attention of the denizens of Hacker News, who propelled it to the site's frontpage earlier this week. Most had fond memories of the franchise, although there was some skepticism that the petition would accomplish its stated goals.
For starters, petitions seldom do much. But regardless, some argued that they'd simply confirm to Disney that there's life (and therefore value) in the Monkey Island franchise.
"Iron Man was a second rate Marvel character that they ignored for years, and they've subsequently made so much money from that. Monkey Island is an excellent storyline and world and Disney will happily ignore it until Pirates of the Carribean is forgotten they they will find the right treatment and throw some celebrities in there and make a bunch of money," wrote one user.
"Has Disney ever sold rights to anything? Their business model is to accumulate vast amounts of IP with emotional attachments to consumers. The more people sign this petition the more Disney will value the Monkey Island IP," said another.
Perhaps they're right. But a lot of people who grew up playing the series — myself included — would do almost anything to see the return of Threepwood and the dastardly pirate LeChuck. And if that means signing a petition, so be it.